Mountain bike trousers, also known as MTB pants are great alternative to shorts, especially in the colder months. MTB trouser technology has come a long way in recent years and many riders prefer the feel of full-length MTB trousers to shorts, especially in the cooler months. Most downhill racers now wear race pants and many trail riders are seeing the benefits too.
MTB trousers are comfortable on the bikes and offer a good on the bike fit for easy riding and efficient pedalling. The fit tends to be slim to stop unwanted flapping about, but their technical fabrics and cycling specific cut ensures unrestricted movement on the bike while leaving room for knee pads.
WHY CHOOSE MTB TROUSERS OVER SHORTS?
The main benefit of trousers over shorts is that they keep your legs warm dry and clean when riding wet trails. When you peel off your MTB pants at the end of a ride you ensure that all the mud goes with them instead of staying on your legs.
STRETCH
Stretch in the fabric is essential for allowing you free movement on the bike while maintaining an efficient slim fit. Stretch panels in key areas give you all the movement you need but higher end trousers offer more overall stretch for improved comfort on the bikes. Look out for 4-way stretch fabric for the best fit.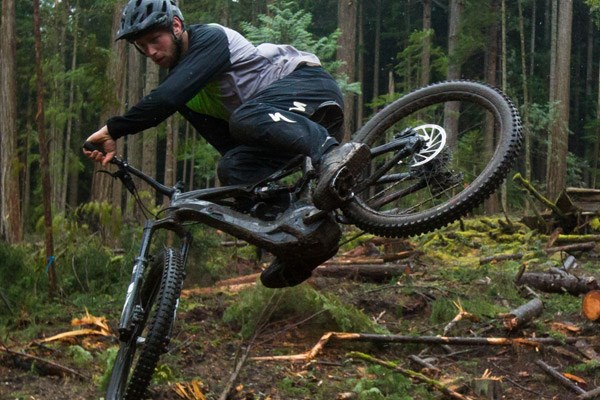 TEAR RESISTANT FABRIC
Tough fabric will help the trousers live up to the rigours of mountain bike riding and racing. The best MTB pants will resist tearing if you snag them on vegetation or take a tumble. Look out for ripstop, Cordura and Kevlar fabric for the toughest performance.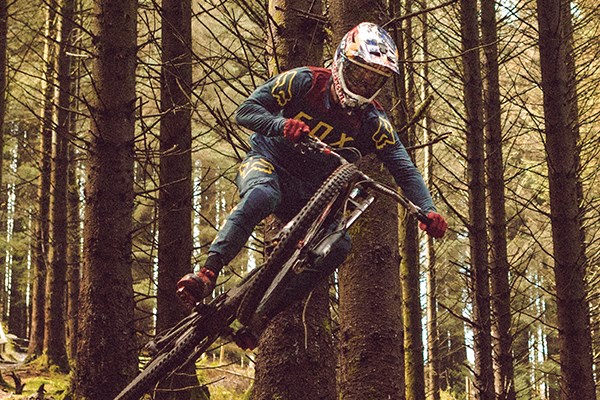 WATER RESISTANCE
The best MTB trousers will repel water to keep you dry when water sprays up form wet trails. Full waterproofs are only necessary when it's raining hard, but a waterproof rear panel and water-resistant fabric are ideal for comfortable year-round riding in the UK. Fully waterproof trousers will have a waterproof membrane in the fabric and taped seems. Look out for DWR water repellent coating and waterproof panels.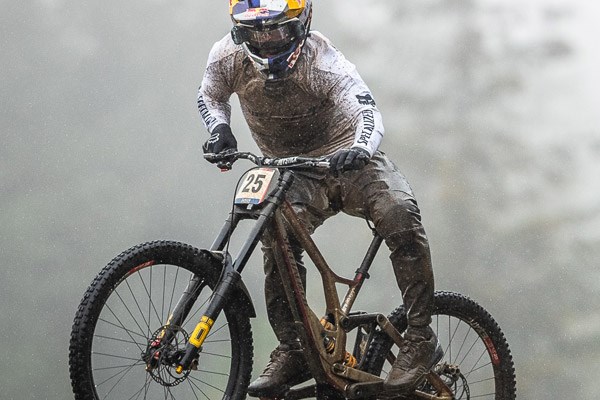 FIT
A tailored on-the-bike fit will make you feel a lot more comfortable on the bike. Good 4-way stretch fabric allows for a slim fit that will avoid flapping about in the wind and snagging in the chain.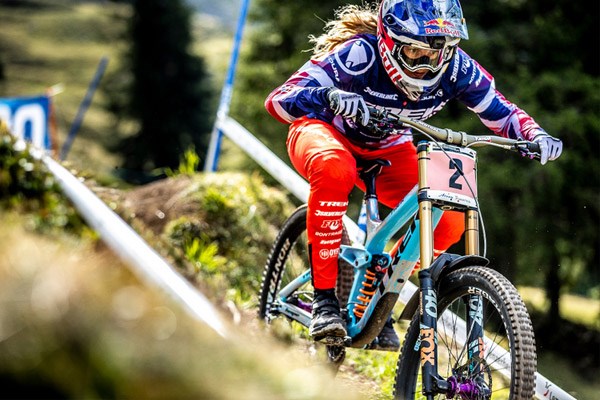 WAIST/ANKLE ADJUSTMENT
Most MTB trousers have a tapered ankle to avoid snagging on the bike. Depending on the stretch of the fabric some may also have Velcro tabs or zips to adjust the fit around the ankle. Waist adjustment comes in the form of a ratchet-style buckle, Boa fastener, Velcro tabs or simply a button and fly.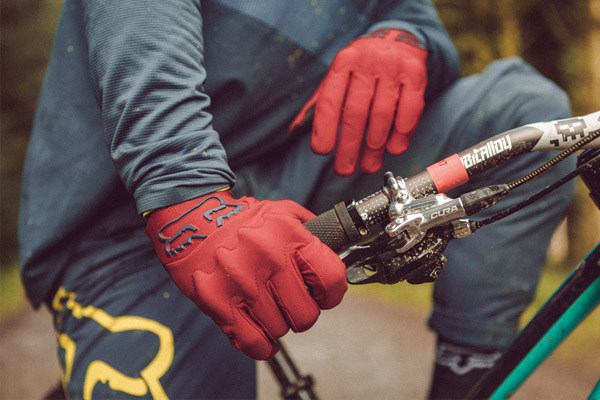 VENTING AND BREATHABILITY
To help keep you cool as you turn up the heat on the bike MTB pants feature breathable fabrics and venting systems. Sometimes mesh backed pockets can double up as vents. With thicker fabrics DH pants tend to be less breathable than trail-oriented trousers.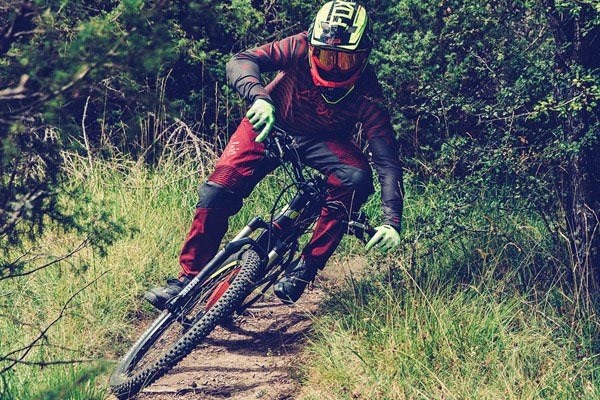 OTHER FEATURES
Zipped pockets allow you to store ride essentials safely. When not in use mesh backing often means the pockets can double up as vents. Some MTB trousers have feature specific ventilation that is either always open or can be zipped up in cooler weather. Waterproof trousers often have zips on the lower legs so you can pull them on over your shoes.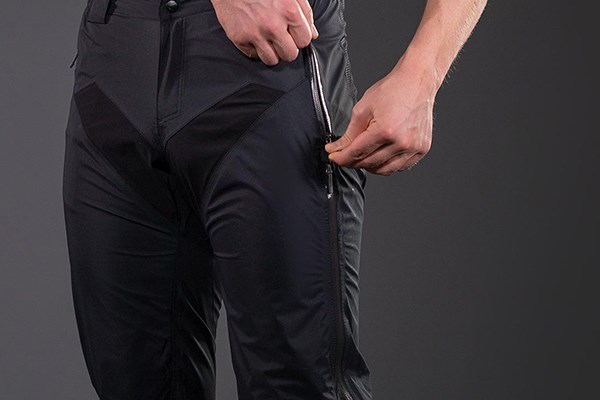 DH MTB PANTS
Downhill or freeride trousers are the most robust type of MTB pants. Designed to be tough enough to stand up to the rigours of DH racing they are made from tough fabrics. These trousers are still comfortable with stretch panels to aid pedalling. Comfortable, hardwearing and easy to ride in, DH race pants have come a long way from the MX trousers that they were inspired by.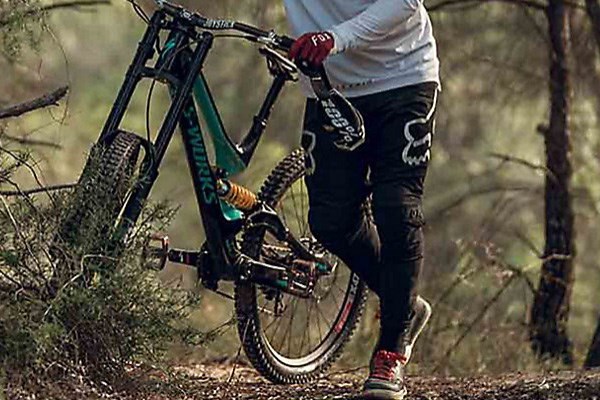 TRAIL MTB TROUSERS
Lighter weight than DH race pants and freeride trousers, trail MTB trousers are designed for climbing as well as descending. They are still built tough with tear resistant fabrics, but they are focused more on all round on-the-bike performance. Some of these trousers have waterproof rear panels and spray resistant fabric coatings. This makes them a great choice for winter riding when the skies may be clear, but the trails are still soaking wet.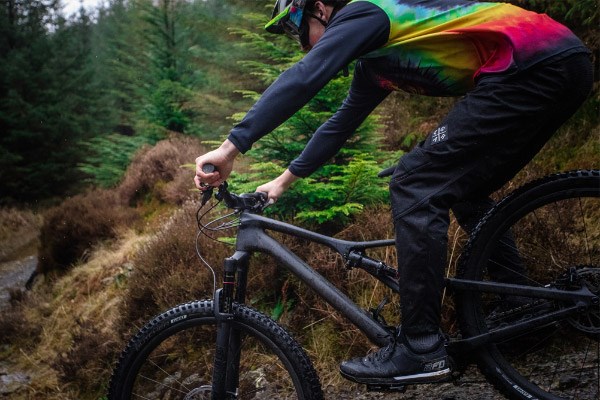 WATERPROOF TROUSERS
While regular MTB trousers are great for dealing with most conditions, they soon reach their limits when the rain gets serious. Full waterproof trousers are designed to keep you dry in the wettest conditions. Higher-end waterproofs are more breathable and may also have some stretch for a better fit and a more comfortable feel.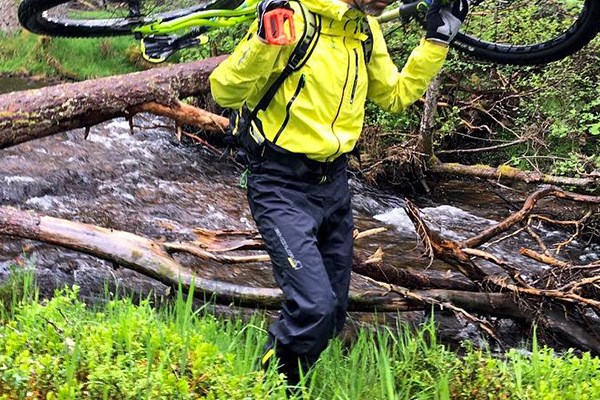 SHOP ALL CYCLING TROUSERS